Transform Your Experience
Reconnect enriches our community's Eretz Yisroel experience with a growing community of women just like yourself.
Your growth is a priority.
The dishes will be washed.
The floor will be swept.
The laundry will be folded.
It. Will. Happen.
Yet, what about you?
Who will nurture your growth if not you?
Gain. Give. Grow.
Rebbitzens, Roshei Yeshivas, and Magidei shiurim. Incredible people with incredible stories. Come hear their wisdom, their chizuk, and their inspiration.
"Come and meet your family!"
-Rabbi Dovid Orlofsky speaking about Reconnect
חכמת נשים
בנתה ביתה
Reconnect's shiurim give our community's ladies the tools they need to build their beautiful homes.
Under the Guidance of Rabbi Shmuel Weiner שליט״א
לעילוי נשמת גיטל בת אברהם
You're loving Eretz Yisroel
The bustle. The Kedusha. It's real.
Yet, your family and friends are living miles away.
You're feeling lost, lonely. You want to join a 
community where you can hear incredible
shiurim and establish quality friendships.
Reconnect with
You only stand to gain.
Gain inspiration and reconnect with Hashem.
Gain friendships and reconnect with your friends.
Gain happiness and reconnect with your skills.
Shiurim that ignite your inner spark.
Take a look at what's in store for you this month.
We have a fantastic and packed schedule for you to participate in.
Mark your calendars so you don't miss out!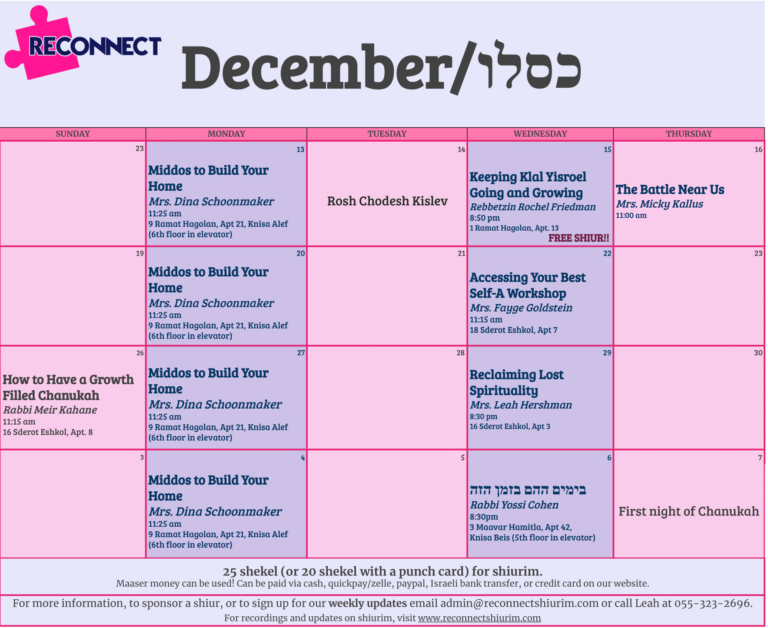 See what people love about us!
I love Reconnect. It's such an opportunity to stay inspired and stay connected day-to day.
I think Reconnect is an amazing program for women who come to live in Yerushalayim to come connect and grow from shiurim, enabling them to having a growing experience in Eretz Yisroel. I urge everyone to participate in the program and kol hakavod to everyone who is behind it.
Reconnect is incredible! It gives me such a wonderful sense of community! It's a positive social environment where I can meet wonderful ladies who are always learning and growing. It's an amazing opportunity to hear fantastic shiurim from all kinds of speakers! Thank you, Reconnect, for all that you do!"
Ever since I landed in Eretz Yisroel I've been thoroughly enjoying attending Reconnect shiurim and events, meeting new people, and having great experiences. I feel so fortunate to now be actively working for this fantastic organization with other inspiring and growing individuals.
I am grateful for every day I get to live here, surrounded by incredible people in a holy land and being immersed in shiurim. I learn so much and am so positively impacted by Reconnect!
Reconnect has girls from all over, just like yourself, who come together with friends, meet new friends, and enjoy hearing divrei chizuk. If you are living here, in any of these neighborhoods, you know it's hard to leave everything behind. Here, your friends are your family-So come and meet your family! Come and get involved, come to our events, our shiurim, and more. I'm looking forward to seeing you at the next one!
Reconnect gives me an opportunity to learn from amazing speakers as well as make so many wonderful friends. My time in Israel wouldn't be the same without this incredible organization!
Reconnect is such a beneficial program that everyone can benefit from. Coming here to Eretz Yisroel as young married girls, we all want to grow and reconnect. And they really give us inspiration, right at our fingertips. I always come home from shiurim inspired with my life, changing myself for the better!
It's incredible to see how many bnos yisroel want to reconnect to everything that is important. As many women as possible should join this organization and anyone who can help support this organization should do so because Klal Yisroel needs this reconnection.
Reconnect is the reason why I have such relatable shiurim to attend. They make it so convenient for us to join and it's always exciting to hear the fabulous speakers that they manage to get for us! I'm so grateful for the hard work that they do, because all our lives have more inspiration thanks to them!
The Reconnect program is amazing in the sense that it is machazeik people spiritually and socially in order to become really balanced and healthy people
Reconnect is an incredible organization which helps ladies in Yerushalayim become enriched and grow, taking care of themselves, giving them a community and a support system. Really a fantastic organization. Yasher koach to them!
Download NEW Shiurim Now!
Growing in ruchniyus, growing in numbers!
Yearly: